Dr. Robert Swinger – Ophthalmology
About Robert Swinger, DVM, DACVO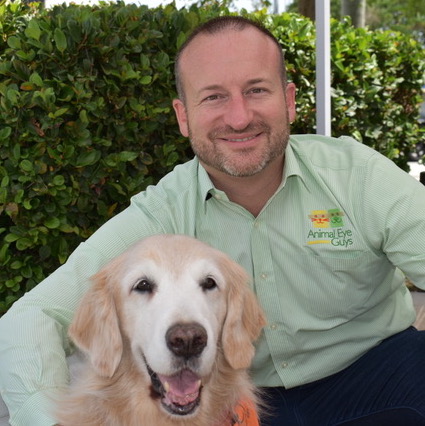 Dr. Robert Swinger completed his undergraduate work and received his Doctorate of Veterinary Medicine from the University of Illinois in 2003. After completing an internship in small animal medicine and surgery at Veterinary Specialists of South Florida in 2004, he went on to complete both an ophthalmology internship in 2005 and residency in 2009 at the Animal Eye Specialty Clinic. Soon thereafter, he joined the VCA Aurora Animal Hospital outside of Chicago before returning in 2011 to launch Animal Eye Guys. Over the past few years, Animal Eye Guys has expanded to multiple locations across South Florida extending from Miami to West Palm Beach. Dr. Swinger is board certified and a Diplomate of the American College of Veterinary Ophthalmologists.
In his work environment, Dr. Swinger enjoys teaching and taking active roles in the clinic's internship/residency programs. He is an active lecturer/wet lab instructor across the nation including the Florida Veterinary Medical Association, The Gulf Atlantic Veterinary Conference, Vet Vacation CE, University of Illinois, St. Matthew's University, and many local events for his referring veterinary community. His special interests include surgical and medical management of glaucoma, cataract surgery, and corneal physiology. Outside of the veterinary arena, Dr. Swinger enjoys spending time with his family (which includes his twins, Keegan and Francesca, and a toy poodle, Sophia) and enjoys the outdoors, cooking, and traveling.
---
Presentation Synopsis
1. EYE! Oh My! An Overview of Ocular Emergencies in Small Animal Patients
2. New Developments in Veterinary Ophthalmology – Surgical and Pharmacological
3. Ocular Procedures and Surgery in your Practice
4. Feline Ophthalmology
5. Glaucoma in Veterinary Medicine – Surgical and Medical Management
6. Corneal Ulcers – Why some just won't heal!
7. What's on your shelf? A guide to ocular pharmaceuticals and supplements.
8. What are Your Colleagues Sending? A Review Of The Top 10 Most Common Ophthalmic Referrals.