Dr. Margie Smith – Dentistry
About Dr. Margie Smith, DVM, DAVDC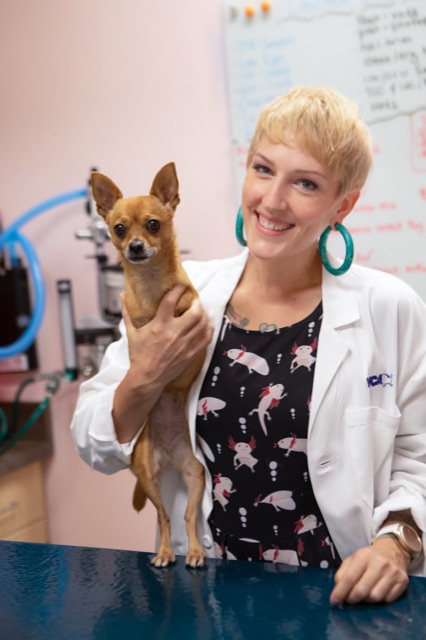 Dr. Margie Smith was born and raised in southern Indiana where she received her bachelor's degree from Indiana University in Biology. She received her DVM from Ross University School of Veterinary Medicine in 2015. After identifying an interest in veterinary dentistry, Dr. Smith pursued a small animal rotating internship at VCA Alameda East in Denver, CO, followed by a three-year residency in dentistry and oral surgery at Colorado State University. She obtained board certification through the American Veterinary Dental College (AVDC) in 2021.
In her free time, she enjoys hiking, cooking, baking, knitting, biking, and roller skating. She has one German shepherds (Cyrus), a two-legged chihuahua (Furiosa), a one-eyed rescue cat (Glen Coco) and a lovely long-haired grey cat (Sudo).
Dr. Smith has a passion for relieving oral pain in all animals with a special interest in maxillofacial trauma, oral tumors, and porcine dentistry.
---
Presentation Synopsis
1. Periodontal disease: A review of the AVDC stages (1-4) including diagnosis, treatment, and prevention for small animals (not just dogs and cats!).
2. Oral tumors: How to identify based on odontogenic vs. non-odontogenic tumors, basic differentials, and potential treatment options for common tumor types in dogs and cats.
3. Regional nerve blocks: A review on local anesthetics, landmarks including tips/tricks for common blocks (video administration included in power point presentation), and discussion about utilizing long lasting local anesthetic agents (Nocita, liposomal encapsulated bupivacaine).
4. Anomalies!: Weird stuff you haven't seen before but should be aware of including non-radiation osteonecrosis of the jaw, palatal defects, dentinal dysplasia/enamel hypoplasia, etc. How to identify these oddities and know when to refer a client.
5. Tooth resorption: Review of the types (not the antiquated stages) that are helpful clinically to determine treatment in cats and an overview of tooth resorption in dogs to evaluate whether or not extraction is indicated (it often isn't!).
6. Dental Emergencies Part 1: Basic dental fractures/luxations/avulsions including diagnosis and treatment options, many of which can be performed in a general practice setting.
7. Dental Emergencies Part 2: More advanced oral trauma including lip avulsions and jaw fractures. This is a good overview of what can easily be fixed in general practice vs what requires a referral to a dentist or surgeon.
8. Basic dental extractions: A review of techniques, tips/tricks, and equipment. Utilization of proper equipment is key to making extractions easier/faster.