Dr. Ann Hohenhaus – Oncology and Internal Medicine
About Ann Hohenhaus, DVM, ACVIM (Oncology), ACVIM (Internal Medicine)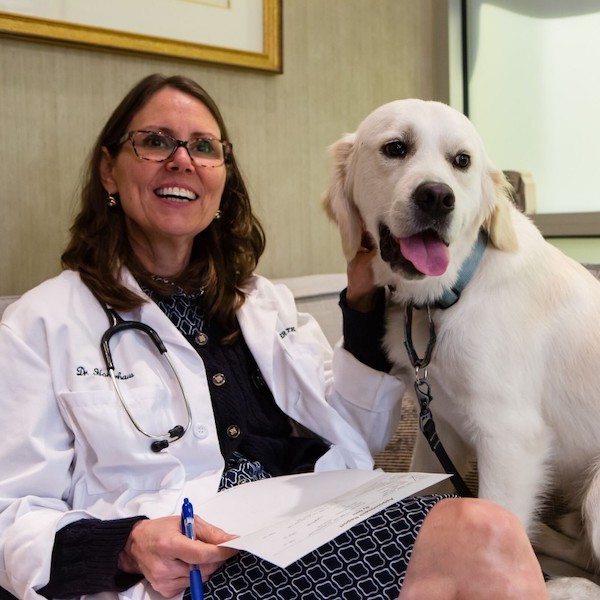 Dr. Ann Hohenhaus is a third generation veterinarian who is also double board certified by the American College of Veterinary Internal Medicine. She is an avid blogger and has written for multiple media outlets including www.amcny.org and vetstreet.com. In 2014, Dr. Hohenhaus was honored by the Foundation for Biomedical Research with a DeBakey Award for Excellence in Journalism for "Dogs Go To Bat Against Lou Gehrig's Disease." Dr. Hohenhaus has also created content for publications such as Ladies Home Journal and Real Simple Magazine.
Dr. Hohenhaus is an active participant in AMC's research mission and has written extensively in the veterinary literature. She is listed as an author on 39 publications in PubMed in the disciplines of oncology, internal medicine and transfusion medicine, including: squamous cell carcinoma, mast cell tumors, melanoma, exocrine pancreatic insufficiency, and anemia. She authored 19 veterinary textbook chapters and is currently investigating immunotherapy for hemangiosarcoma in dogs. Dr. Hohenhaus lectures nationally and internationally, most recently in the Kuala Lumpur, Malaysia and Lima, Peru.
In her spare time, Dr. Hohenhaus raises foster kittens as a member of the ASPCA Foster Kitten Team.
---
Presentation Synopsis
ONCOLOGY TOPICS
Oncology
1. Small cell gastrointestinal lymphoma in the cat
2. Not Cushing's Disease: Adrenal Tumors in Dogs and Cats
3. Melanoma management 25 min
4. Using Palladia in Clinical Practice 25 min
5. Feline Myeloma Related Disorder 25 min
6. Making sense of nonsense: feline lymphoma diagnostics
7. Hepatic and Pancreatic Tumors: diagnosis and management
8. Advanced imaging in veterinary oncology
9. Chemotherapy of solid tumors
10. Management of thyroid tumors
11. Prevention and management of chemotherapy toxicity
12. Does this pet have cancer?
13. The five chemotherapy agents I can't live without
14. When CHOP flops: lymphoma rescue therapy for cat
15. When should the vet say YES to immunohistochemistry?
16. How I use PARR and FLOW in cancer patients
17. Myeloma related disorders in the cat
INTERNAL MEDICINE TOPICS
1. Anemia in the dog: case-based management
2. How to approach the dog with chronic diarrhea
3. Biopsy Basics: Getting the most from a biopsy and cytology report