Dr. Tara Hammond – Emergency Critical Care
About Tara N. Hammond, DVM, DACVECC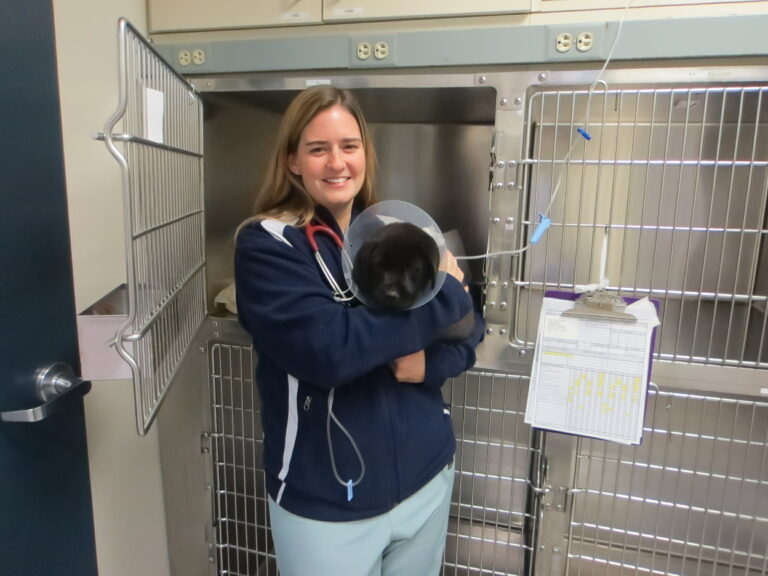 A specialist in emergency and critical care, Dr. Tara Hammond joined the Tufts VETS staff in 2008. Dr. Hammond earned her Bachelor's Degree in Biology from Worcester Polytechnic Institute in 1999. She attended Cummings School of Veterinary Medicine at Tufts University and was awarded her Doctorate of Veterinary Medicine in 2003.
Dr. Hammond completed a rotating internship in small animal medicine and surgery at Angell Animal Medical Center in 2004 and spent time in private/emergency practice. She went on to complete a three-year emergency and critical care residency at Angell Animal Medical Center. Dr. Hammond became a Diplomate of the American College of Veterinary Emergency and Critical Care in 2008.
Dr. Hammond's professional interests include limited fluid volume resuscitation, trauma, anesthesia/analgesia, toxicities, transfusion medicine, pediatrics, and coagulopathies. She is internship director and runs the blood bank. She is a member of many professional organizations and her work has been published in The Journal of Veterinary Emergency and Critical Care and The Journal of the American Veterinary Medical Association.
In her free time, Dr. Hammond enjoys spending time with her husband, two children and pets. She is a seasoned world traveler, certified SCUBA diver, and die-hard Red Sox fan!
---
Presentation Synopsis
1. Approach to the Canine Hemoperitoneum
2. Approach to the Critical Wound and Burn Patient
3. Approach to Fluid Therapy
4. Cardiopulmonary Cerebral Resuscitation (RECOVER based)
5. Diabetic Ketoacidosis
6. Feline Asthma
7. Feline Urethral Obstruction
8. Hepatic Lipidosis
9. Immune-mediated Hemolytic Anemia
10. Immune-mediated Thrombocytopenia
11. Inherited Bleeding Disorders
12. Ischemia and Reperfusion Injury in Small Animals
13. Leptospirosis: what's new?
14. Limited Fluid Volume Resuscitation
15. Pediatric Emergencies
16. Shock
17. Toxic Plants
18. Transfusion Medicine
19. Traumatic Brain Injury