Zion National Park, Utah 2024October 5 - 7, 2024
Topics:
Topic TBD – Dr. TBD
TBD- Dr. TBD

Zion National Park is a southwest Utah nature preserve distinguished by Zion Canyon's steep red cliffs. Zion Canyon Scenic Drive cuts through its main section, leading to forest trails along the Virgin River. The river flows to the Emerald Pools, which have waterfalls and a hanging garden. Also along the river, partly through deep chasms, is Zion Narrows wading hike.
October 5, 2024
12:30PM-1PM REGISTRATION Just outside the Mukuntuweap Room
1-1:50AM
2-2:50AM
3-3:45AM
3:45-4PM BEAK AND SNACK
4:00-4:50 PM
5:00-5:50PM
6:15-7:15PM Cocktail Hour

October 6, 2024
Breakfast 7AM-8AM
8-8:50AM
9-9:50 AM
10-10:50 AM
10:45-11AM BREAK AND SNACK
11:00-11:50 PM
12:00-12:50PM
1PM EXPLORE ZION NATIONAL PARK!


October 7, 2024
7-8AM Breakfast
8-8:50 AM
9-10:15 AM
10:15AM -10:30AM BREAK AND SNACK
10:30-11:45AM
12-12:50PM
1PM VETVACATIONCE CONCLUDES - BOOK YOUR NEXT VETVACATIONCE!

Hampton Inn & Suites Springdale and Holiday Inn Express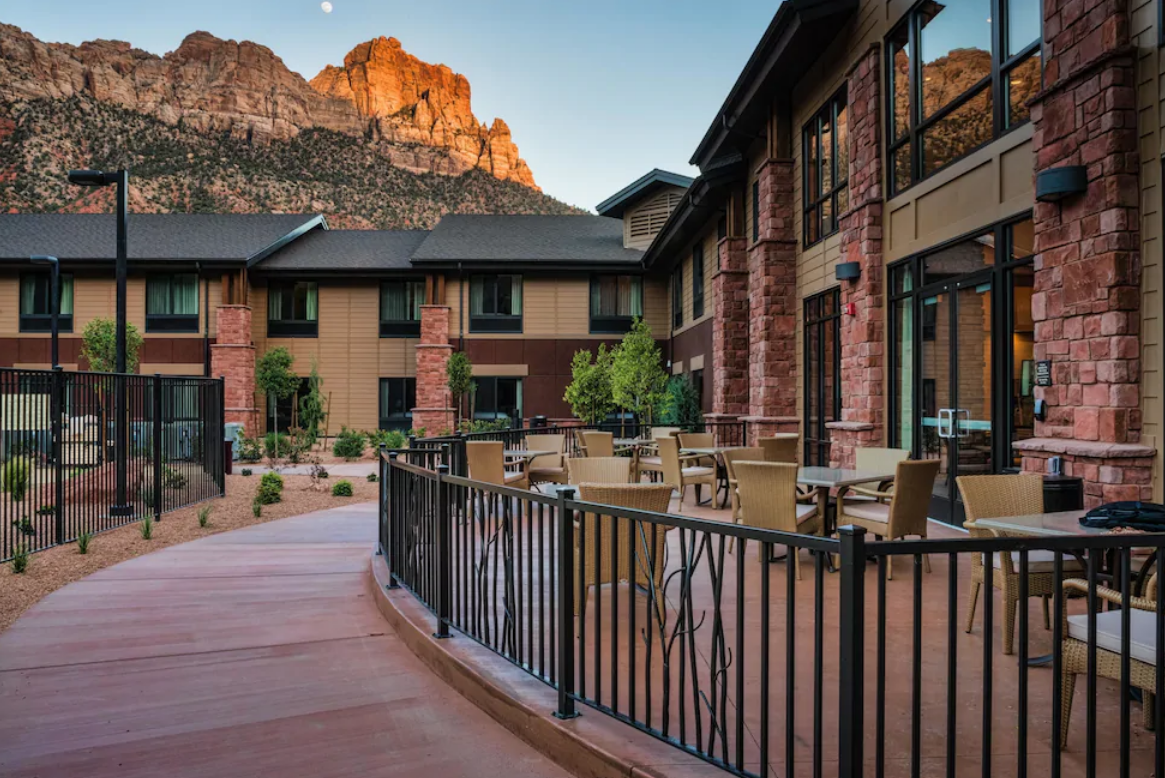 Call in: 435-627-9191 or 435-772-3200
Referring Code/Group Name: Group Name VetVacation Group Code VVS using the online link
Room Rate: $289+ 13.62% tax Free parking and no resort fee
Book early! Rooms are very limited. Rates are available 2 days pre and post based on availability at time of booking. These blocks will sell out fast.
Reservation includes hot breakfast, high-speed internet, and fitness center, views of the towering Red Rocks and the Virgin River. The Hampton Inn is one mile from the Zion National Park entrance with a tram stop in front of hotel and close proximity to Bryce Canyon. The overflow hotel is the Holiday Inn Express and is 0.2 miles from the Hampton Inn. 1 minute by car.
McCarran International Airport Las Vegas (LAS)
Distance from Hotel: 145 mi.
Drive Time:2 hr.
St. George Municipal Airport (SGU)
Distance from Hotel: 54 mi.
Drive Time:1.15 hr.
Taxi, rental car, limousine service and public bus service are all available from both airports.

Presentation Synopsis
TBD

Presentation Synopsis
TBD