Nashville, TN 2024October 17 - 19, 2024
Topics:
Emergency Critical Care - Dr. Lisa Powell
Emergency Critical Care - Dr. TBD
Learn from two experts in Veterinary Medicine and expand your knowledge on Emergency Critical Care in Nashville, TN.
Known for its energy and vibrancy, Nashville is one of the most famous music destinations in the world. It's actually nicknamed "Music City" because of its significance to the biz. Its streets are filled with bars, clubs, concert halls, music studios and more recording stations than you can shake a microphone at. There are other sides to Nashville, however. It's located on the river, so it has gorgeous natural landscapes filled with forests and ravines. It was the birthplace of several notable figures, so there's history to be learned from its landmarks and memorials.
Great sites to see include The Grand Ole Opry, Broadway, Parthenon,  Cumberland Park, Music Row, Vanderbilt Dyer Observatory and The Nashville Zoo.
It's no secret that food in Nashville is a highlight. Haven't tried it for yourself yet? Check out these 8 favorites to discover thanks to 2foodtrippers!
October 17, 2024
12:30-1pm REGISTRATION: Sign In and Pick a Seat!
1-1:50 pm
2–3:15pm
3:15-3:45pm BREAK AND SNACK
3:45-5pm
5:10-6pm
6:15-7:15 WELCOME RECEPTION

October 18, 2024
7-8am BREAKFAST BUFFET for Attendees
8-8:50am
9-9:50am
10-10:50am
10:50-11:10am BREAK AND SNACK
11:10–12noon
12:10-1pm
1pm EXPLORE AND ENJOY NASHVILLE!


October 19, 2024
7-8am BREAKFAST BUFFET for Attendees
8-8:50am
9-9:50am
10-10:50am
10:50-11:10am BREAK AND SNACK
11:10–12noon
12:10-1pm
1pm BOOK YOUR NEXT VET VACATION!
Holiday Inn & Suites Nashville Downtown Broadway
Call in: 888-HOLIDAY or 615-265-0355
Referring Code/Group Name: Vet Vacation CE - October 24
Room Rate: Run of House hotel room $249+ 15.25% + $2.50 City tax per night.
Accommodations are limited at this special rate. Please book and register early!
Arrangements have been made so you can extend your vacation up to 2 nights before and/or after your destination seminar at the same rate if rooms are available at the property based on availability. You will need to call in to book room if you are extending beyond the conference nights. I would suggest booking the nights available using the link and then call in to extend. Book or Call early to secure your choice of rooms.
• The check-in time is 3:00 PM and the check-out time is 11:00 PM. Baggage storage is available. Early Check-in and Late Check-out requests cannot be guaranteed and must be made prior to arrival.
Parking fees apply: Valet Parking $52 + tax or Self Parking $45 + tax per vehicle per day
Fly into Nashville International Airport (BNA)
It is a 10 minute 7 mile drive to the Holiday Inn & Suites Nashville Downtown Broadway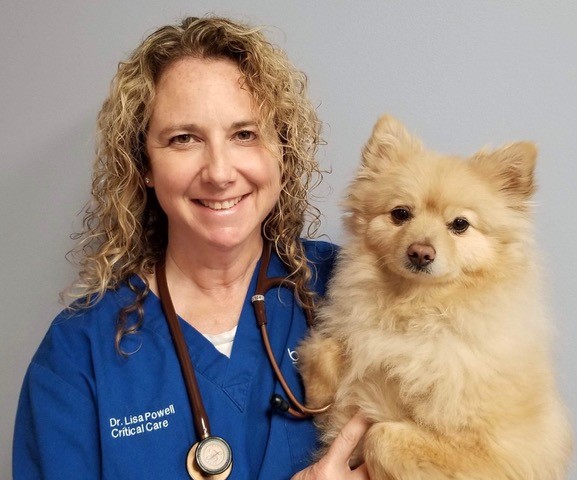 Dr. Lisa Powell graduated veterinary school from Texas A&M in 1995, completed a small animal rotating internship at the AMC in NYC in 1996, and then went on to a residency in small animal emergency and critical care at Tufts University, finishing in 1999. She became board certified in Veterinary Emergency and Critical Care in 2000. Following residency, Dr. Powell joined the faculty at the University of Minnesota where she worked as a clinical professor for 15 years. She is an author of more than 30 veterinary journal articles, book chapters, and authored a book entitled "Small Animal Emergency and Critical Care: Case Studies in Client Communication, Morbidity and Mortality". Dr. Powell is a national and international speaker on all things emergency and critical care! She is currently a Manager of Telehealth and ER development and an associate critical care clinician at BluePearl Veterinary Partners. Her clinical interests include cardiopulmonary disease, high flow oxygen therapy, mechanical ventilation, and innovative clinical teaching methods.
Presentation Synopsis
1. The IPASS Method - ER rounds, communication, and patient safety
2. Feline Shock
3. Transfusion Medicine
4. Carbon Monoxide Toxicity - Case presentations
5. Emergency Case Presentations
6. Arrhythmias in the ICU
7. Triage and Treatment of the Trauma Patient
8. Pulmonary Edema - Pathophysiology and Treatment
9. Common Emergencies
10. Hematologic Emergencies

Presentation Synopsis
TBD