Online Conference Exotic Pet Zoo Medicine October 2023October 18 - 20, 2023
Topics:
Exotic Pet Medicine - Dr. Heidi Hoefer
Exotic Pet Medicine - Dr. Stephen J. Divers
This is an on-line CE conference, that is RACE approved as live interactive, featuring DR. HEIDI HOEFER and DR. STEPHEN DIVERS We offer this CE using the ultimate social distancing platform: ZOOM. You can earn up to 15 hours of CE with your participation in our Vet Vacation conference. Conference classes will be held  following the same schedule as the live event in SAVANNAH!
Early Bird:  All three days $429 and One day $189. 5 CE hours per day before September 27th then pricing will increase to $499 and $219.
Individual CE certificates will be emailed to each participant at the conclusion of the meeting.
October 18, 2023
12:30-1pm ET ZOOM doors open!
1-1:50pm Rabbit Stasis and Acute Abdomen
2-2:50pm Rabbit Dentistry
3-3:45pm Rodent Dentistry
3:45-4:10pm BREAK
4:10-5pm Reptile Radiography
5:10-6pm Reptile Clinical Pathology


October 19, 2023
7:30-8am ET ZOOM Doors open!
8-8:50am Reptile Reproductive Disease
9-9:50am Reptile Nephrology and Renal Diseases
10-10:50am Understanding and Learning from Medical Errors in Exotic Animal Practice
10:50-11:10am BREAK AND SNACK
11:10-12am Spay and Neuter Tips and Tricks
12:10-1pm Common Problems Backyard Chickens
1pm EXPLORE SAVANNAH!


October 20, 2023
7:30-8am ZOOM Doors open!
8-8:50am The Exotic Pharmacy: Must haves (newer drugs with doses)
9-10:15am Urolithiasis ECM (Rabbit, Ferret, Guinea pig)
10:15 -10:40am BREAK AND SNACK
10:40-11:30am Reptile Anesthesia
11:40-12:55pm Reptile Surgery
1pm Vet Vacation CE Conference Concludes: Book Your Next VetVacationCE!

Description
Online Veterinary Conference 2023: Social Distance While you Stay at Home and Earn 15 Hours of Continuing Education!! Dr. Heidi Hoefer and Dr. Stephen Divers are experts in the field of Exotic Pet and Zoo Medicine!  See their topics and biographies below.
The ZOOM remote video and audio webinar platform will allow for the following:
The speaker's slide presentation will be on your device screen.
You will hear the speaker audio.
You will be able to raise your hand to ask questions and get rapid response answers
We will make this as interactive as possible.
We will send you a link to access the conference.
Based on your continued log in for the meeting, we will send a digital CE certificate of completion.
Prior to the conference, we will email you the notes and links to the event.  Zoom will be the platform.
Registration is $429 for the entire conference or $189 per day. Each day is 5 hours of CE until September 27th then the price increases to $499 for 3 days and $219 for single day passes.
VetVacationCE registration for this Online Veterinary Conference 2023 is $429 for the 3 day conference or $189 per day. Each day is 5 hours of CE until September 27th then rates will increase to $499 and $219
You can view our other Online Veterinary Conferences for 2023 and 2024 conferences here.
See what other participants have to say about our in person and online courses here
Benefits to Online Veterinary Conferences 2023 are:
Ability to select from a variety of topics led by world renowned specialists
Learn from a safe comfortable environment of your choice
Access to the best educators in the world
Lower fees
Replays available upon request – so that you can review any material
Increase your skill level
Stay up to date on new treatments and standards of care within the profession
No need to travel – lower your carbon footprint
Whether you decide to learn with us in person or online you are guaranteed to have an enjoyable learning experience with VetVacationCE.
Additional information
| | |
| --- | --- |
| Choose Schedule | October 18-20 (3 days) $429, October 18 only $189, October 19 only $189, October 20 only $189 |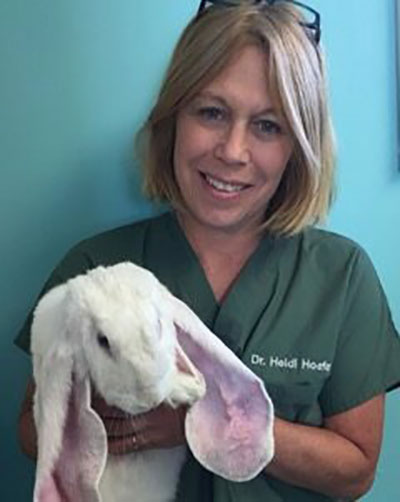 Dr. Heidi Hoefer, DVM DABVP
Dr. Heidi Hoefer is a 1987 graduate of Ross University School of Veterinary Medicine and has been practicing avian and exotic medicine exclusively since 1988. Following a small animal internship at the Animal Medical Center in New York, Dr. Hoefer completed a residency in avian and exotic pet medicine and surgery in 1990 and remained as a staff member in the department for 7 years. Dr. Hoefer became board certified in avian practice through the ABVP in 1993, part of the first group achieving avian certification.
After 10 years at the AMC, Dr. Hoefer moved to private practice where she is the owner of Island Exotic Veterinary Care, Long Island's first all-exotic animal clinic. She is an adjunct professor of Special Species at Ross University School of Veterinary Medicine and has had a long career lecturing to both students and veterinarians locally, nationally and internationally.
Presentation Synopsis
All new talks for 2022!
1. Rabbit Stasis and Acute abdomen
2. Rabbit dentistry
3. Rodent dentistry
4. Urolithiasis ECM (Rabbit, Ferret, Guinea pig) - 75 minutes
5. Spay and Neuter tips and tricks (ECM)
6. Common Problems Backyard Chickens
7. The Exotic Pharmacy: Must haves (newer drugs with doses)
Dr. Stephen J. Divers BVetMed, DZooMed, DECZM(Herp), DECZM(ZHM), DACZM, FRCVS
Dr. Stephen Divers graduated from the Royal Veterinary College in London in 1994. He obtained his Certificate and Diploma in Zoological Medicine from the Royal College of Veterinary Surgeons (RCVS), and is a recognized Specialist in Zoo & Wildlife Medicine and a Fellow of the Royal College of Veterinary Surgeons. He is a Diplomate of both the American and European Colleges of Zoological Medicine (Herpetology and Zoo Health Management).
He is a past-president of the Association of Reptilian and Amphibian Veterinarians, scientific editor of the Journal of Herpetological Medicine & Surgery and an associate editor for the Journal of Zoo & Wildlife Medicine. He has served on the ABVP subspecialties in small mammal and herpetological medicine, and was involved with the establishment of the zoological companion animal (exotic pet) examination through the ACZM, as well as the European College of Zoological Medicine, herpetology and zoo health management subspecialties.
Dr Divers has lectured at over 80 national or international conferences across the Americas, Europe and Australasia. He has twice received the Best Speaker Award at the North American Veterinary Conference and the International Conference on Exotics, and was voted "Exotic DVM of the Year" in 2006. Stephen heads the Zoological Medicine Service and supervises the zoological residency program (currently at 4 residents) at the College of Veterinary Medicine, University of Georgia, USA. He has over 150 publications to his name including various editorships, book chapters, and scientific journal papers. He is co-editor of the recently published 3rd edition of Mader's Reptile and Amphibian Medicine and Surgery.
Presentation Synopsis
1. Reptile anesthesia
2. Reptile surgery 75 min
3. Reptile radiography
4. Reptile clinical pathology
5. Reptile reproductive disease
6. Reptile nephrology and renal disease
7. Understanding and learning from medical errors in exotic animal practice