Online Conference Internal Medicine and DermatologyMarch 18 - 20, 2021
Topics:
Internal Medicine – Dr. Robert Armentano
Dermatology - Dr. Kim Coyner
This is an on-line CE conference featuring Dr. ROBERT ARMENTANO and DR. KIM COYNER. We offer this CE using the ultimate social distancing platform: ZOOM. You can earn up to 15 hours of CE with your participation in our Vet Vacation conference. Conference classes will be held  following the same schedule we planned as if we were in SAN DIEGO,CA together!
Early Bird: One day $159. All three days $399. 5 CE hours per day before MARCH 11th then pricing will increase to $459 and $179.
Individual CE certificates will be emailed to each participant at the conclusion of the meeting.
March 18 (4pm-9pm ET)
Lectures 4PM-9PM ET

March 19 (11am - 4pm ET)
Lectures 11am-4pm ET


March 20 (11am - 4pm ET)
Lectures 11 am - 4 pm ET

Description
Social Distance While you Stay at Home and Earn 15 Hours of Continuing Education!!
Dr. Robert Armentano and Dr. Kim Coyner are experts in the field of  Internal Medicine and Dermatology!  See their topics and biographies below.
The ZOOM remote video and audio webinar platform will allow for the following:
The speaker's slide presentation will be on your device screen.
You will hear the speaker audio.
You will be able to raise your hand to ask questions and get rapid response answers
We will make this as interactive as possible.
We will send you a link to access the conference.
Based on your continued log in for the meeting, we will send a digital CE certificate of completion.
Prior to the conference, we will email you the notes.
Registration is $399 for the entire conference or $159 per day. Each day is 5 hours of CE until January 18th.
Additional information
| | |
| --- | --- |
| Choose Schedule | March 18-20 (3 days) $399, March 18 only $159, March 19 only $159, March 20 only $159 |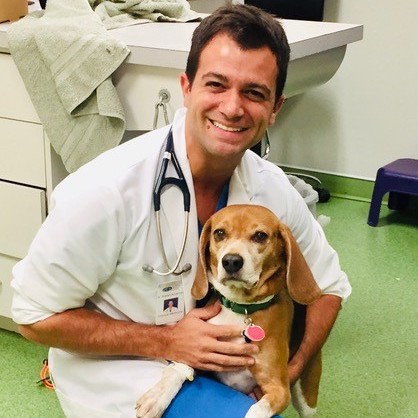 Robert Armentano DVM, ACVIM
Dr. Robert Armentano is board certified in small animal internal medicine. He is a Chicago native and did his undergraduate studies in animal sciences at the University of Illinois. After obtaining early admission into veterinary school he completed his training at the University of Illinois as well. After his DVM degree he continued his training at the University of Florida for a rotating internship and internal medicine residency. Dr. Armentano has engaged in many speaking opportunities including Chicago news updates on emerging infectious diseases including blastomycosis, leptospirosis and canine influenza. Dr. Armentano has participated in prospective research, published book chapters and is actively participating in research trials.
Presentation Synopsis
1. The diagnostic and therapeutic approach to primary and opportunistic, systemic fungal infections
2. The lepto suspect: a disease overview and lit review
3. Tick-borne diseases of the 4Dx -A review of tick-borne diseases in dogs and cats
4. FUO: fever of unknown/unsure/undiagnosed origin
5. Update on gastroprotectants in dogs and cats
6. The increased ALT: a practical approach to liver testing and sampling
7. Medical management of acute and chronic liver disease in dogs and cats
8. Diagnosis: open for small intestinal thickening- causes include IBD versus lymphoma
The occult Cushingoid dog: to treat or not to treat
Dr. Kimberly S. Coyner graduated from the Colorado State University College of Veterinary Medicine in 1994. After a private practice internship and a year in emergency practice, she obtained a two-year teaching position and then a residency in dermatology at the University of Georgia. For the past 17 years, Dr. Coyner has been in private dermatology referral practice at Dermatology Clinic for Animals in the southwest and pacific northwest United States, and is also a dermatology consultant for Veterinary Information Network and co-editor of the international Veterinary Dermatology journal.
Presentation Synopsis
1. The Fungus Among us! Dermatophytosis Diagnosis and Treatment
2. Canine Recurrent Pyoderma Diagnosis and Treatment
3. Diagnosis and Treatment of Chronic Otitis
4. Noseitis: Diseases of the Nasal Planum: Not every crusty nose Is autoimmune!
5. Make your Microscope Enhance Your Dermatology Patient Care: In-house Cytology of Inflammatory Skin 6. Lesions and Masses
7. The Itchy Dog! Workup and Treatment of the Pruritic Dog
8. Dermatologic Manifestations of Internal Disease