Online Conference Exotic Pet Zoo Medicine October 2022October 13 - 15, 2022
Topics:
Exotic Pet Medicine - Dr. Olivia Petritz
Exotic Pet Medicine - Dr. Steve Thompson
This is an on-line CE conference, that is RACE approved as live interactive, featuring DR. OLIVIA PETRITZ and DR. STEVE THOMPSON We offer this CE using the ultimate social distancing platform: ZOOM. You can earn up to 15 hours of CE with your participation in our Vet Vacation conference. Conference classes will be held  following the same schedule as the live event in CHICAGO!
Early Bird:  All three days $429 and One day $189. 5 CE hours per day before September 22nd then pricing will increase to $499 and $219.
Individual CE certificates will be emailed to each participant at the conclusion of the meeting.
October 13, 2022
ZOOM doors open 12:30pm-1pm CT
1:00-1:50pm Snakes Alive! Anesthesia, Analgesia & Surgery Dr. Thompson
2:00-3:15pm Update on Rabbit Hemorrhagic Disease Dr. Thompson
Calici Virus/Update on COVID19 in Exotic Pets
Improved Wellness Guidelines for Rabbits
3:15-3:30pm BREAK
3:30-4:20pm Therapeutic Contraindications in Exotic Pets Dr. Petritz
4:30-5:45pm Exotic Animal Jeopardy Dr. Petritz



October 14, 2022
Conference 8am-1pm CT
7:30-8am ZOOM Doors open!
8-8:50am Bird Beams: Avian radiology Dr. Thompson
9-9:50am Yeasties & Beasties: Antifungal & Anthelmentic update Dr. Thompson
10-10:45am Exotic Zoonotic: Safety for Families and Your Team Dr. Thompson
10:45am-11am BREAK
11–11:50am Backyard Poultry: Common Diseases Dr. Petritz
12-12:50pm Backyard Poultry: Regulatory Concerns Dr. Petritz



October 15, 2022
Conference 8am-1pm CT
7:30-8am ZOOM Doors open
8-8:50am Dermatology of Zoological Companion Animals Dr. Petritz
9-9:50am Rabbit and Rodent Dentistry Dr. Petritz
10 –10:45pm Euthanasia of Exotic Pets Dr. Petritz
t10:45am -11am BREAK
11-11:50am Drs who DooALot for ALittle Guy: Case Discussions(I) Dr. Thompson
12-12:50am Drs who DooALot for ALittle Guy: Case Discussions (II) Dr. Thmpson
1pm VET VACATION CE CONFERENCE CONCLUDES
BOOK YOUR NEXT VET VACATION!
Description
Social Distance While you Stay at Home and Earn 15 Hours of Continuing Education!!
Dr. Olivia Petritz and Dr. Steve Thompson are experts in the field of Exotic Pet and Zoo Medicine!  See their topics and biographies below.
The ZOOM remote video and audio webinar platform will allow for the following:
The speaker's slide presentation will be on your device screen.
You will hear the speaker audio.
You will be able to raise your hand to ask questions and get rapid response answers
We will make this as interactive as possible.
We will send you a link to access the conference.
Based on your continued log in for the meeting, we will send a digital CE certificate of completion.
Prior to the conference, we will email you the notes.
Registration is $429 for the entire conference or $189 per day. Each day is 5 hours of CE until September 22nd then the price increases to $499 for 3 days and $219 for single day passes.
Additional information
| | |
| --- | --- |
| Choose Schedule | October 13-15 (3 days) $499, October 13 only $219, October 14 only $219, October 15 only $219 |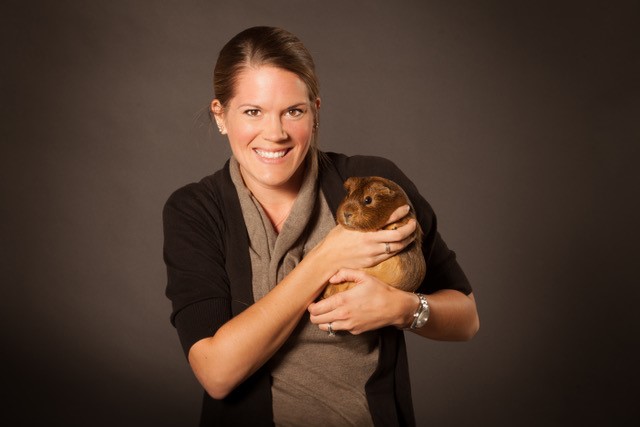 Olivia Petritz, DVM, Diplomate ACZM
Olivia Petritz completed her undergraduate and veterinary degree at Purdue University in Indiana. Following graduation, she completed a small animal rotating internship at a specialty hospital in San Diego, CA followed by an exotic animal internship at Gulf Coast Avian and Exotics in Houston, TX.
Dr. Petritz returned to California to complete an ACZM residency at the University of California, Davis in companion exotics and zoo medicine, and achieved board certification in November of 2013. She then founded an exotics service at a specialty hospital in Los Angeles and worked there for three years prior to starting as an assistant professor at NC State in 2017. She shares her home with her husband, two children, two dogs, a cat, a guinea pig, and the noisiest one of everyone, a cockatiel.
Presentation Synopsis
All new talks for 2022!
1. Backyard poultry
2. Euthanasia of Exotic pets
3. Sedation and manual restraint of exotic pets (with case examples)
4. Reptile radiology
5. Clinically relevant avian and reptilian anatomy
6. Therapeutic contraindications in exotic pets
7. Rabbit and rodent dentistry
8. Exotic animal Jeopardy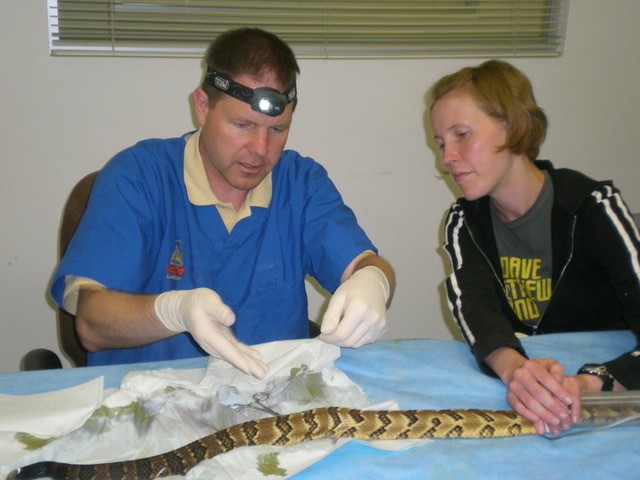 Steven Thompson, DVM, Diplomate ABVP
Dr. Steve Thompson leads the Primary Care dog, cat and exotic pet rotations for 3rd and 4th year DVM and RVT student rotations and is affiliated with Purdue's Center for the Human – Animal Bond and Center for Animal Welfare Science. He has authored chapters on coelomic surgery in snakes and pharmacotherapy for phobias, as well as research articles and abstracts related to feline urologic disorders, surgery and pain management in conservation research with endangered species, vaccines and immunology. He served on the AAHA canine life stage wellness taskforce and the 2012 and subsequent 2019 update publications of these guidelines. He has presented topics at international meetings, including exotic pet and zoo conservation symposia, in Canada, the Czech Republic, Austria, Germany, Hungary and Japan. He is involved with several conservation organizations and has provided veterinary care in wildlife cooperatives with the US Fish & Wildlife Service as well as the Ohio, Michigan and Indiana DNR related to Peregrine Falcons, Whooping Cranes, River Otters, Hellbender Salamanders and Timber Rattlesnakes.
Presentation Synopsis
1. Snakes Alive! Anesthesia, Analgesia & Surgery 50 min
2. Update on Rabbit Hemorrhagic Disease/Calici virus 25 min
3. Update on COVID19 in exotic pets 25min
4. Improved wellness guidelines for rabbits 25 min
5. Bird Beams: Avian radiology 50 min
6. Hospice Care, End of Life and Euthanasia in Exotic Pets 50 min
7. Exotic Zoonotic: Safety for families and your team 50 min
8. Drs who DooALot for ALittle Guy: Small mammal case discussions Part 1 50 min
9. Drs who DooALot for ALittle Guy: Small mammal case discussions Part 2 50 min
10. Common GI problems of Ferrets
11. Dietary Disorders in Rabbits
12. Dental Disease in Exotic Companion Mammals
13. Small Mammal Dermatology
14. Tortoise Overview – Don't be frightened by the Shell
15. America's Favorite Lizard – Dragon medicine
16. Drs who DooAlot for ALittle Guy: Reptile or Avian case presentations/interactive discussion