Online Conference Cardiology and Oncology Fox HohenhausFebruary 4 - 6, 2021
Topics:
Cardiology – Dr. Phillip Fox
Oncology and Internal Medicine – Dr. Ann Hohenhaus
This is an on-line CE conference featuring DR. ANN HOHENHAUS and DR. PHILLIP FOX. We offer this CE using the ultimate social distancing platform: ZOOM. You can earn up to 15 hours of CE with your participation in our Vet Vacation conference. Conference classes will be held  following the same schedule we planned as if we were in ATLANTIS together!
Early Bird: One day $159. All three days $399. 5 CE hours per day before JANUARY 28th then pricing will increase to $459 and $179.
Individual CE certificates will be emailed to each participant at the conclusion of the meeting.
February 4 (1pm -6pm ET)
Zoom Doors open 12:30pm-1pm
1PM Five Chemotherapy Agents (AH)
2PM Feline Lymphoma (AH)
3PM Chronic Diarrhea (AH)
4PM Improve Your Diagnosis Part 1 and 2(PF)

February 5 (8am - 1pm ET)
8 AM Feline GI Lymphoma (AH)
9 AM Coughing & Dyspneic Radiography (PF)
10:30 AM CT, MRI and Echo (PF)
11 AM Feline Heart Disease I and II (PF)


February 6 (8am - 1pm ET)
8 AM Immunohistochemistry (AH)
9 AM Canine Heart Disease (PF)
10:30 AM Critical Arrythmias (PF)
11 AM Canine Anemia (AH)
12 PM Palladia
12:30 PM Melanoma
Description
Social Distance While you Stay at Home and Earn 15 Hours of Continuing Education!!
Dr. Phillip Fox and Dr. Ann Hohenhaus are experts in the field of  Cardiology and Oncology!  See their topics and biographies below.
The ZOOM remote video and audio webinar platform will allow for the following:
The speaker's slide presentation will be on your device screen.
You will hear the speaker audio.
You will be able to raise your hand to ask questions and get rapid response answers
We will make this as interactive as possible.
We will send you a link to access the conference.
Based on your continued log in for the meeting, we will send a digital CE certificate of completion.
Prior to the conference, we will email you the notes.
Registration is $399 for the entire conference or $159 per day. Each day is 5 hours of CE until January 28th.
Additional information
| | |
| --- | --- |
| Choose Schedule | February 04-06 (3 days) $399, February 04 only $159, February 05 only $159, February 06 only $159 |
Dr. Phillip Fox ACVIM/ECVIM Cardiology and ACVECC Critical Care
Dr. Philip Fox is certified by the American and European Colleges of Veterinary Internal Medicine and the American Collagen of Veterinary Emergency and Critical Care. He is also Director of the Caspary Research Institute of the Animal Medical Center, Director of Educational Outreach, and Head of Cardiology. He received a BS degree from Marietta Ohio, and MSc and DVM degrees from the Ohio State University. He completed an internship in medicine and surgery, as well as a cardiology residency, at the Animal Medical Center in NY City. Dr. Fox is a well-recognized international speaker, has given more than 1000 hours of continuing education lecture, and has received numerous honors including awards including TNAVC Speaker of the Year, an award from the Ohio State University as Distinguished Alumnus, and an award of merit bestowed by the City of NY for work done with search and rescue dogs during 9/11. He has published extensively including two cardiology textbooks, more than 150 peer-reviewed journal articles and scientific abstracts, and has been a co-founding editor of The Journal of Veterinary Cardiology and for Seminars in Veterinary Medicine and Surgery (Small Animal). Research interests include congestive heart failure, feline and canine cardiomyopathies, evidence based medicine, and cardiovascular pathology.
Presentation Synopsis
1. History and Physical Examination Made Easy- Clinical Correlates
2. History and Physical Examination Made Easy- Videos and Discussions
3. Thoracic Imaging of the coughing and dyspneic dog and cats. Part I
4. Thoracic Imaging of the coughing and dyspneic dog and cats. Part II
5. Heart Disease in the Cat- How to Diagnose
6. Heart Failure in the Dog- Staging and Monitoring
7. CT, MRI and Echo
Oncology and Internal Medicine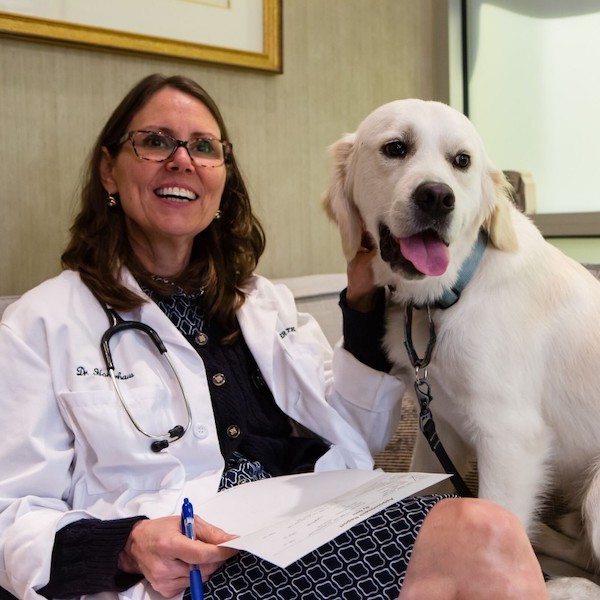 Ann Hohenhaus, DVM, ACVIM (Oncology), ACVIM (Internal Medicine)
Dr. Ann Hohenhaus is a third generation veterinarian who is also double board certified by the American College of Veterinary Internal Medicine. She is an avid blogger and has written for multiple media outlets including www.amcny.org and vetstreet.com. In 2014, Dr. Hohenhaus was honored by the Foundation for Biomedical Research with a DeBakey Award for Excellence in Journalism for "Dogs Go To Bat Against Lou Gehrig's Disease." Dr. Hohenhaus has also created content for publications such as Ladies Home Journal and Real Simple Magazine.
Dr. Hohenhaus is an active participant in AMC's research mission and has written extensively in the veterinary literature. She is listed as an author on 39 publications in PubMed in the disciplines of oncology, internal medicine and transfusion medicine, including: squamous cell carcinoma, mast cell tumors, melanoma, exocrine pancreatic insufficiency, and anemia. She authored 19 veterinary textbook chapters and is currently investigating immunotherapy for hemangiosarcoma in dogs. Dr. Hohenhaus lectures nationally and internationally, most recently in the Kuala Lumpur, Malaysia and Lima, Peru.
In her spare time, Dr. Hohenhaus raises foster kittens as a member of the ASPCA Foster Kitten Team.
Presentation Synopsis
ONCOLOGY AND INTERNAL MEDICINE TOPICS
1. Small cell gastrointestinal lymphoma in cats
2. When should you say YES to immunohistchemistry
3. Melanoma management
4. Using palladia in clinical practice
5. Feline Lymphoma: FAQ and not all have answers
6. Anemia case based management
7. The five chemotherapy agents I can't live without
8. How to approach chronic diarrhea