Glacier National Park Whitefish, Montana 2022June 20 - 22, 2022
Topics:
Clinical Pathology - Dr. Holly Brown
Surgery - Dr. Jennifer Huck
Learn about Clinical Pathology and Surgery surrounded by mountains and the pristine water of Whitefish Lake. Our lodging is only 30-minutes from Glacier National Park and 10-minutes from the myriad of fun summer activities at Whitefish Mountain Resort.
June 20, 2022
Registration 12:20-1pm
Conference 1-6pm
Cocktail hour 6:15-7:15pm

June 21, 2022
Breakfast 7am-8 am
8am-1 pm Conference

June 22, 2022
Breakfast 7am-8am
Conference 8am-1pm
The Lodge at Whitefish Lake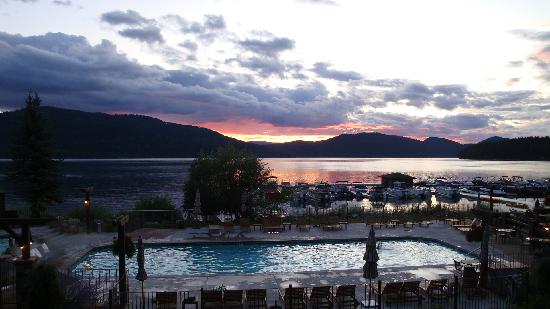 Call in: 406.863.4000 ext. 1 The Lodge at Whitefish Lake
Referring Code/Group Name: ID: VETVAC22 | Password: WHITEFISH
Room Rate: The Rooms at the Lodge at Whitefish Lake: $237+20.75% taxes for Classic King or 2 queens, upgraded rooms at a higher rate are available upon request. Accommodations are limited at this special rate. Please book and register early!
You can extend your vacation 3 days before or after at Whitefish Lodge at the same rate as long as rooms are available.
Complimentary transportation is available to downtown Whitefish the Firebrand Hotel and to the Whitefish Lake Golf Course.
There is free parking and complimentary wireless internet. Internet is not strong in Montana.
Airport Distance: 16 minutes from Glacier International Airport (FCA). Many domestic airlines serve FCA.
Complimentary transportation is available from the Glacier Park International Airport (FCA) and the Amtrak Station with 24 hour advance notice.

Holly Brown, DVM, PhD, DACVP
Dr. Holly Brown received her DVM from the University of Georgia and worked in small animal private practice in Colorado and North Carolina. She returned to UGA for a residency in clinical pathology and additionally obtained her doctorate degree in pathology, studying Cytauxzoon felis infection in domestic and wild cats. After completion of her residency and PhD, Dr. Brown remained on as a faculty member at UGA where she served as a diagnostic clinical pathologist, instructor, and collaborative researcher. Dr. Brown then joined Metzger Animal Hospital's large general and referral practice in State College, PA as an on-staff clinical pathologist. There she sees a wide variety of diagnostic submissions and enjoys playing an important role at the interface of diagnostic testing and patient care. Dr. Brown fulfills her passion for teaching providing mentorship opportunities and continuing education lectures and wetlabs.
Presentation Synopsis
1. Don't toss that fluid: In-clinic effusion analysis (Part I)
2. Don't toss that fluid: In-clinic effusion analysis (Part II)
3. Diagnostics for the anemic patient: When it's not IMHA
4. Interpreting thrombocytopenias and coagulopathies
5. Urinalysis: Why pan for gold?
6. Tying it all together: Maximizing laboratory diagnostics (Part I) 90 minutes
7. Tying it all together: Maximizing laboratory diagnostics (Part II) 90 minutes
Dr. Jennifer Huck is a 2006 graduate of the The Ohio State University College of Veterinary Medicine. She completed a Small Animal Medicine and Surgery Internship at Michigan State University and then went on to do a post-doctoral research fellowship at the University of Pennsylvania PennHIP Research Center. In 2008, Dr. Huck started a residency in small animal surgery at Louisiana State University and completed the residency at Iowa State University in 2011.
Dr. Huck became an ACVS diplomate in 2012. After three years of clinical private practice at a specialty practice in New York City, she joined the faculty at Ross University School of Veterinary Medicine as an Assistant Professor of Small Animal Surgery. At Ross, she was able to further enhance a passion for teaching, surgery, and research working closely with colleagues to help develop a rigorous clinical and surgical skills training program. In 2017, she returned to the University of Pennsylvania where she now serves as an Assistant Professor of Clinical Small Animal Surgery.
Her clinical and research interests focus on surgical oncology, microvascular surgery, surgical diseases of the upper airway, as well as the use and efficacy of models in surgical training.
Presentation Synopsis
1. Surgery for lower urinary tract obstructions: Review of surgical indications and variations on technique to help improve outcomes (includes scrotal and perineal urethrostomy, cystostomy tube placement, and use of pigtail catheters) - 2 hours
2. Facial Reconstruction Techniques: Discussion of some easy to use flaps and other techniques for reconstruction of facial wounds and mass removals.
3. Burn wound management - How to approach burn wounds to ensure optimal healing in cats and dogs
4. Demystifying gastrointestinal surgery: Discussion is aimed at debunking some commonly held beliefs about what should and shouldn't be done in small animal GI surgery
5. Why is this bump different from that bump: Approaches to work-ups and treatment of cutaneous and subcutaneous neoplasias in dogs and cats
6. Tracheal Collapse: A discussion of the condition, common comorbidities, obtaining a diagnosis, and the best treatment recommendations for common presentations.