Coeur D'Alene – Idaho 2023September 1 - 3, 2023
Topics:
Surgery - Dr. Jennifer Huck
Internal Medicine - Dr. Robert Armentano
Learn from two experts in Veterinary Medicine and expand your knowledge on Surgery and Internal Medicine.  Take a sunset Boat cruise, mingle at the cocktail hour or enjoy a round of golf in the afternoon at the Coeur D'Alene resort in Idaho. Our resort is called the "Playground of the Pacific Northwest", and activities include mountain biking, hiking, and fishing.
September 1, 2023
12:30-1pm REGISTRATION: Sign in and pick a seat! Bay 4
1:00-1:50pm FUO: Fever of Unknown/Undiagnosed/Unsure Origin
2:00-3:15pm Diabetes Management – Set Yourself Libre
3:15-3:30pm BREAK AND SNACK
3:30-4:20pm Surgery for Lower Urinary Tract Obstructions Part 1
4:30-5:45pm Surgery for Lower Urinary Tract Obstructions Part 2
6:15-7:15pm WELCOME MINGLE Kidd Island Bay


September 2, 2023
7-8am Breakfast Buffet for AttendeeS Kidd Island Bay
8-8:50am Facial Reconstruction Techniques
9-9:50am Burn Wound Management
10-10:45am Demystifying Gastrointestinal Surgery
10:45am-11am BREAK AND SNACK
11am–11:50am The Lepto Suspect– Disease Overview & Literature Review
12-12:50pm GERD Management & Update on Gastroprotectants
1pm EXPLORE AND ENJOY COEUR D'ALENE!


September 3, 2023
7-8am Breakfast Buffet for Attendees Kidd Island Bay
8-8:50am The Increased ALT: A Practical Approach to Liver Testing & Sampling
9-9:50am The Occult Cushingoid Dog: To Treat or Not to Treat
10-10:45am Diagnosis: Diagnosis: Open for Small Intestinal Thickening- IBD vs Lymphoma
10:45am -11am BREAK AND SNACK
11-11:50am Why Is This Bump Different from That Bump
12-12:50pm Tracheal Collapse
1pm Vet Vacation CE Concludes: Book your next VetVacationCE!
Call in: 888-965-6542
Referring Code/Group Name: Vet Vacation CE
Room Rate: North Wing $263 +13.4% tax, Park Tower $314+ 13.4% tax, Lake Tower $394+ 13.4% tax
Accommodations are limited at this special rate. Please book and register early! Room block closes July 31, 2023 with availability.
Arrangements have been made so you can extend your vacation 3 days before and/or after your destination seminar at the same rate if rooms are available at the property based on availability. You will need to call in to book room if you are extending beyond the basic conference nights. Book or Call early to secure your choice of rooms.
A private 2 hour sunset cruise on the Kootenai will be available for purchase $40 per person and is limited to 80 guests. You can add this on at check out. A cash bar will be available.
The Coeur d'Alene resort is the "Playground of the Pacific Northwest." The resort is located on the north shore of Lake d'Alene. The resort features world-class accommodations, conference and business facilities, golf, spa, recreational activities, shopping, dining, nightlife, and much more.
Discounted Special Group Rate of $210 round of golf (tax and surcharge included). Tee time reservations required.
Coeur d' Alene has the longest floating boardwalk in the world. Amenities include golf course, infinity pool, wi-fi, wine cellar and tour, fitness center, multiple pools, Cedars floating restaurant, and many lakefront activities.
The Coeur d'Alene Resort is 40 minutes from the Spokane International Airport (GEG). The airport has non-stop and one-stop access from most major US and Canadian cities. Airport limousine service is available from the airport to the resort.
Dr. Jennifer Huck is a 2006 graduate of the The Ohio State University College of Veterinary Medicine. She completed a Small Animal Medicine and Surgery Internship at Michigan State University and then went on to do a post-doctoral research fellowship at the University of Pennsylvania PennHIP Research Center. In 2008, Dr. Huck started a residency in small animal surgery at Louisiana State University and completed the residency at Iowa State University in 2011.
Dr. Huck became an ACVS diplomate in 2012. After three years of clinical private practice at a specialty practice in New York City, she joined the faculty at Ross University School of Veterinary Medicine as an Assistant Professor of Small Animal Surgery. At Ross, she was able to further enhance a passion for teaching, surgery, and research working closely with colleagues to help develop a rigorous clinical and surgical skills training program. In 2017, she returned to the University of Pennsylvania where she now serves as an Assistant Professor of Clinical Small Animal Surgery.
Her clinical and research interests focus on surgical oncology, microvascular surgery, surgical diseases of the upper airway, as well as the use and efficacy of models in surgical training.
Presentation Synopsis
1. Surgery for Lower Urinary Tract Obstructions: Review of Surgical Indications and Variations on Technique to Help Improve Outcomes (includes scrotal and perineal urethrostomy, cystostomy tube placement, and use of pigtail catheters) - 2 hours
2. Facial Reconstruction Techniques
3. Burn Wound Management
4. Demystifying Gastrointestinal Surgery
5. Why Is This Bump Different From That Bump
6. Tracheal Collapse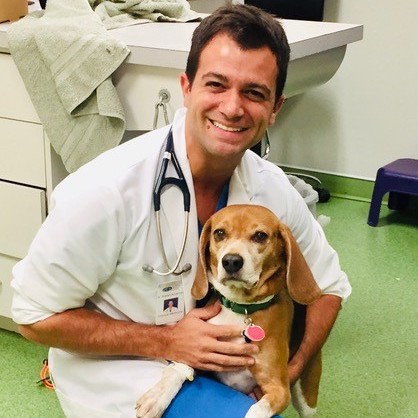 Robert Armentano DVM, ACVIM
Dr. Robert Armentano is board certified in small animal internal medicine. He is a Chicago native and did his undergraduate studies in animal sciences at the University of Illinois. After obtaining early admission into veterinary school he completed his training at the University of Illinois as well. After his DVM degree he continued his training at the University of Florida for a rotating internship and internal medicine residency. Dr. Armentano has engaged in many speaking opportunities including Chicago news updates on emerging infectious diseases including blastomycosis, leptospirosis and canine influenza. Dr. Armentano has participated in prospective research, published book chapters and is actively participating in research trials.
Dr. Armentano currently works at the Veterinary Specialty Center in the Chicagoland area. He lives with his wife and four-legged friends (2 dogs). Dr. Armentano enjoys travel, the Chicago Cubs (Go Cubbies) and endurance sports including marathons and triathlons.
Presentation Synopsis
1. The Diagnostic and Therapeutic Approach to Primary and Opportunistic, Systemic Fungal Infections
2. The Lepto Suspect: A Disease Overview and Lit Review
3. Tick-Borne Diseases of the 4Dx -A Review of Tick-Borne Diseases in Dogs and Cats
4. FUO: Fever of Unknown/Unsure/Undiagnosed Origin
5. GERD Management & Update on Gastroprotectants
6. The Increased ALT: A Practical Approach to Liver Testing and Sampling
7. Medical Management of Acute and Chronic Liver Disease in Dogs and Cats
8. Diagnosis: Open for Small Intestinal Thickening- Causes Include IBD vs Lymphoma
9. The Occult Cushingoid Dog: To Treat or Not to Treat
10. Diabetes Management – Set Yourself Libre