Boston, Massachusetts 2024April 26-28, 2024
Topics:
TBD - Dr. TBD
TBD – Dr. TBD
Learn about veterinary ______ and _______ while on your city tour of Historic Boston.
Boston is Massachusetts' capital and largest city. Founded in 1630, it's one of the oldest cities in the U.S. The key role it played in the American Revolution is highlighted on the Freedom Trail, a 2.5-mile walking route of historic sites that tells the story of the nation's founding. One stop, former meeting house Faneuil Hall, is a popular marketplace.
"Beantown" is home to Symphony Hall, where the legendary Boston Pops orchestra performs, and Fenway Park, where the beloved Red Sox baseball team plays. Famous cultural institutions include the Museum of Fine Arts, Museum of Science and the Isabella Stewart Gardner Museum, housing a world-class collection in a space designed like a 15th-century Venetian palazzo. Popular strolling spots include the Public Garden, featuring iconic swan boats; Newbury Street, offering upscale shopping; the Waterfront, dotted with seafood and chowder restaurants; and the North End, abundant with Italian bakeries and cafes.
April 26, 2024
12:30-1pm REGISTRATION: Sign in and pick a seat! Terrace Room Upper Level
1-1:50pm (LL)
2-3:15pm (LL)
3:15-3:30pm BREAK AND SNACK
3:30-4:20pm (JS)
4:30-5:45pm (JS)
6:15-7:15pm COCKTAIL RECEPTION Boylston


April 27, 2024
7-8am Breakfast Buffet for Attendees Terrace Room
8-8:50am (LL)
9-9:50am (LL)
10-10:45am (JS)
10:45am-11am BREAK AND SNACK
11–11:50am (JS)
12-12:50pm (JS)
1pm EXPLORE AND ENJOY BOSTON!


April 28, 2024
7-8am Breakfast Buffet for Attendees Terrace Room
8-8:50am (JS)
9-9:50am (JS)
10 –10:45pm (LL)
10:45am -11am BREAK AND SNACK
11-11:50am (LL)
12-12:50pm (LL)
1pm Vet Vacation Concludes. Book your next VetVacationCE!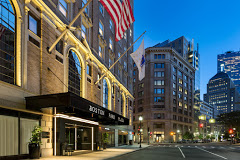 Call in: 617-203-7165
Referring Code/Group Name: Vet Vacation CE -April 2024
Room Rate: Room Rate: $299 Superior Queen or $439 Studio Suite plus 16.45% tax, $25 destination fee waived Rooms available 3 nights pre and post at the same rate based on availability. $20 additional person over double occupancy. Rollaways available $25 based on availability and can not fit in all rooms
The cherished downtown Boston landmark hotel has been fully restored and reimagined through a $100 million renovation. The most treasured of the Back Bay Boston hotels, our property is a destination itself.
Use the booking link.
Fly into BOS Boston Logan International airport 12 minute drive to the hotel without traffic

Presentation Synopsis
TBD

Presentation Synopsis
TBD